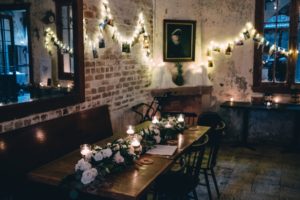 A wedding in a historic venue offers timeless beauty, elegance, and sophistication. It can also help the couple save on decorations if they use the setting as a backdrop for their day. There's no shortage of places to choose from, including historic mansions, museums, theatres, or hotels, and—for couples planning their nuptials in New Orleans—the following historic wedding venues are options.
The Eliza Jane Hotel
The Eliza Jane Hotel borrows inspiration from Eliza Jane Nicholson, a small-town poet who went on to become the first woman publisher of a major metropolitan newspaper. The rooms have a touch of classical décor and floor-to-ceiling windows. The 1,729 square feet of event space includes access to an open-air courtyard adjacent to the Couvant courtyard, which provides an opportunity for breathtaking wedding photos.
Calcasieu Catering & Events
James Beard Award-Winning Chefs Donald Link and Stephen Stryjewski run the historic Calcasieu, which is conveniently located two blocks from the Convention Center. It is an idyllic spot for private events within its four private dining rooms that have a feel of the historic New Orleans warehouse. The building's masonry, large-scale windows, and heavy timber construction give the hotel a vintage touch that makes it perfect for historic weddings.
Republic NOLA
Republic NOLA is a 7,500 square foot refurbished warehouse that fuses its historical heritage with modern amenities. The classical-inspired original wooden beams, vintage hand-painted murals, and stunning chandeliers blend with state-of-the-art light and sound systems to create a perfect space for a historic wedding.
Ernst Café
Located in one of the oldest buildings in the historic Warehouse District of New Orleans, Ernst Café is a popular venue for private events and weddings. It's one of the oldest continually-operated bars in the area, but Ernst Café also has a reception area fit for 150 people in the open-floor Lafayette Room with historic architecture and décor.
If you're ready to create the historic wedding of your dreams, The Event Glossary is your go-to platform for everything from venues, entertainment, tours, transportation, and so much more. If you have an upcoming event in New Orleans, our team will work closely with you to make it a success. Contact us to learn more and request a proposal.