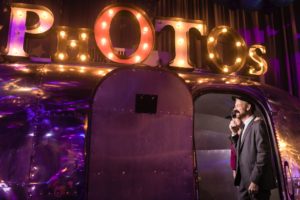 Even if you've hired a photographer for your wedding, you can still let your guests capture their own memories with a photo booth. A photo booth gives your friends and family an interactive option for entertainment that they can use throughout the party. Photo booths are becoming more and more popular at weddings, so here are some creative ideas to spice yours up.
A Natural Backdrop
Outdoor weddings make the most of nature by adding a lush backdrop to the proceedings. Why make your guests take their pictures inside of a booth when they can use the scenery you chose for your big day? Hanging antique picture frames from tree branches can help them set the stage for memorable, artistic photos.
A Polaroid Frame
The classic white borders of a Polaroid are synonymous with a certain type of cool. You can take a few aspects of Polaroids and apply them to a photo booth. It's relatively easy to make a large but lightweight Polaroid frame out of cardboard that your guests can hold around their faces. The frame can also be made with a thicker bottom border that's labeled with your wedding hashtag or another catchphrase.
A Decorative Chalkboard
Another creative backdrop for photo booths is a chalkboard that's decorated with the bride and groom's names or the wedding date. The design of the board can be as minimal or artistic as you'd like. You can also provide chalk so that guests can add their own messages to it.
At The Event Glossary, we look at the big picture and break it down for our clients. Whether you're planning a wedding, fundraiser, or a corporate event, our website can serve as a one-stop-shop for all of your event planning needs. We can book venues, caterers, entertainment, photographers, and more. Use our online tool to start planning your event today.