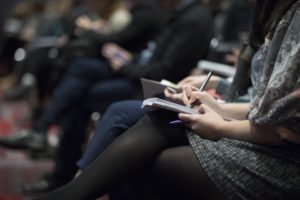 Planning a conference can be a stressful endeavor. Between finding the proper venue and vendors, recruiting, and advertising, the to-do list can be quite intimidating. No matter the uphill battle faced, a successful, rewarding conference is within reach. With the following helpful tips, your conference planning can become less of a hassle and more of a breeze for everyone.
Visualize and Budget
Every event starts with a vision. Start planning all of the minute details, including the time of year, venue, and target attendees. After the details are locked in, design a financial plan based on available funds and projected revenue. Consider who is presenting and the unique selling points of the conference and set the budget based on that and whatever other amenities your conference can offer attending guests. Though you may have to adjust, have a starting scenario in your mind to work from.
Marketing Your Conference
Attendance is a major component of a successful conference, and great marketing is key. When you are selling out, you're maxing out income and luring in sponsorship opportunities. An online registration system can help organize your entire operation, enabling you to keep track of attendees, payments, and other data relevant to your operation.
Flow and Opportunity
When guests enter the conference venue, what do they see? How do they figure out the schedule and layout? Where do they meet with groups? Where can they grab drinks and food? The best tip for answering these questions is to walk the venue floor as if you were a conference attendee and map things out from that perspective. Additionally, consider opportunities for sponsor booths and vendors selling conference-related items. Both of these can dramatically impact the revenue taken in by the conference.
At The Event Glossary, we know the importance of hosting the perfect conference. We are a one-stop-shop for event planning through our connections with vendors both local to New Orleans and worldwide, including venues, catering, and lighting. Visit our website to start planning your conference or request a proposal today!