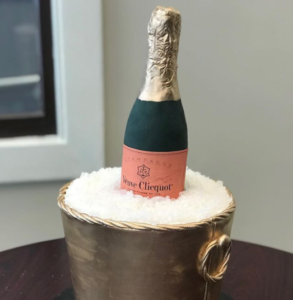 In a city known for food, New Orleans brides are particularly lucky when it comes to picking out dessert. From Carnival staples like King Cakes to more savory treats like cheese, the after-dinner meal is an opportunity to customize your wedding that many people overlook. Get hungry for these creative wedding cake alternatives.
King Cake
Festive and fun, King Cakes can also be dressed up for your day. Using tiered displays, multiple King Cakes can become a signature dessert tower. Voted "Best King Cake" by NOLA Defenders, one of our favorites comes from Bittersweet Confections.
Donut Cake
Donuts come in just about every flavor and can be displayed in a myriad of ways. Arrange them on top of each other, sit them sideways on cute plates, or even hang them from a wall. Don't forget about the donut holes!
Wheels of Cheese Cake
Looking for something more savory than sweet? Stack wheels of your favorite cheeses for a truly unique display. Create a memorable charcuterie board with crackers, cured meat, honey, and olives.
Ice Cream Sandwich Cake
Combine the nostalgic joy of ice cream with the ease of pre-portioned servings, and an ice cream sandwich cake is a win. We love Just Delights Handmade Ice Cream and Sweets, who also provides a mobile ice cream cart or sundae bar.
Crêpe Cake
An assortment of crêpes is a lighter but flavorful wedding cake replacement idea. Rustic yet refined, crêpe cakes offer many different filling options. Choose from a classic buttercream, sweet Nutella, tangy lemon, or keep it simple with powdered sugar.
Macaron Cake
As cute as they are delicious, these perfectly bite-sized Parisian desserts can be displayed in many different ways, and come in various flavor combinations. Mangé Catering offers some of our favorite, colorful macarons.
Beignet Cake
Nothing says "New Orleans wedding" like a beignet cake! Pile this powdered sugar covered pastry on decorated dishes for an elegant but fun touch. Serve with café au lait for a dessert your guests will never forget.
Ready to work with a local caterer on your unique wedding cake idea? The Event Glossary connects you with vendors—including an array of bakeries—to find event necessities in your area. Contact us to start planning today.