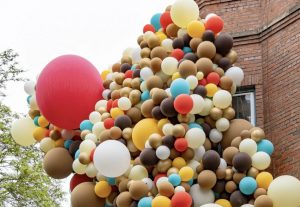 With more time being spent at home, people are really getting extra creative when planning parties and activities, whether they are socially distanced parties or online events. Just because we are four months deep into quarantine life doesn't mean there is any less reason to celebrate! Birthdays, engagements, bachelorette parties, and everything in between, are all still happening even though the world seems to have stopped turning.
We love seeing all the creative ways people are making their "at home" events stand out. One group hosted a clever and safe wine tasting party with single-serve bottles from a brand like Vinebox. This way guests never have to handle the same bottle of wine! We also have seen a lot of special signage and flags celebrating 2020 graduations and the congratulatory yard signs that spell out your message.
Of all the quarantine party decorating trends, one of our favorites are balloons! We have worked with balloons in our events over the years and we are now seeing some incredible, unique, and refreshed event design come to life with this old party staple, even at home. We've compiled some photos of our favorite balloon party decor, and we hope they will provide some fresh ideas and inspiration for when you begin to plan your next celebration!
The Balloon Arch
This balloon arch that stretches across the entire home is a show stopper! What an amazing way to welcome guests to your next at-home event.
At Home Dinner Party
When hosting your next party, try using balloons to spice up your dining table or food display! From a fun and colorful backdrop to an amazing balloon cloud that you can hang above your table, is there anything you CAN'T do with balloons?
Planning a Birthday Party?
Celebrate your loved one's milestone in style. We love a good Mylar balloon, but take a look at some of these new unique balloon mosaics that vendors are starting to create. Whether you are turning four or forty, these designs are sure to put a smile on your face.
Balloons and Floral, Why Not?
Mixing in balloons with floral creates this fun and whimsical feel for whatever the occasion – whether you are planning a birthday, throwing a surprise party, or even hosting a microwedding at close loved ones.
Mixing It Up
Who said all balloons have to be that traditional balloon shape? We love the way these installations mix traditional balloons together with fun shapes, colors, and even textures.
Do It For the 'Gram
Create your own fun backdrop for people to take photos, and Instagrams, in front of! We love using balloons as a fun addition to already photo-ready event decor. This is something that can be done outside, but also easily created indoors in front of any blank wall.
Neutrals
Throwing a safari-themed birthday party? Are you one of those people obsessed with neutral shades for interior decorating, clothes, and everything in between? Here are some fun ideas balloon vendors have designed that will add something new and exciting to your event, but that won't compromise your color palette!