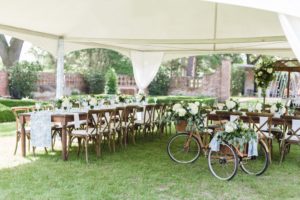 New Orleans may be known for its decadent celebrations and love affair with excess, but that doesn't mean you can't keep your NOLA wedding clean and green. As event professionals, we know how much waste a few hundred people can create in just a few hours, so we've come up with great tips on how to reduce your wedding's environmental imprint. Conscious couples who want a fabulously green (and budget-friendly) wedding, read on!
1. E-Vites over Envelopes
Get off to the right start by using cleverly designed e-invitations. Do-It-Yourself using Canva or PaperlessPost, or hire a talented graphic designer with all the money you've saved on postage. Set up a personalized e-mail where people can reply with RSVPs. This has the added perk of linking directly to your online registry or website and the option to easily follow up with people for responses, allergy information, event changes, etc.
2. Cater to the Earth
If you're an eco-friendly couple, chances are so are your guests, and they won't mind eating green on recycled, yet chic materials. Eliminate wedding waste by hiring a caterer who understands that small adjustments that can make big impacts. Choose a caterer that has a seasonal menu for fresh,  sustainable produce, vegetarian/vegan options, and uses biodegradable cutlery and tableware.
Our favorite caterers think of ways to reduce their environmental impact in ways we don't expect. Our favorite oyster shuckin' ladies, Two Girls One Shuck, not only support local wild caught and farm-raised oysters from the Gulf Coast, but they recycle oyster shells to the Coalition to Restore Coastal Louisiana to replenish oyster reefs and create marshland protection from coastal erosion. We like Marie's Fleur de Lis Catering for big and small events and Palate New Orleans or Mangé Catering for an upscale, but guilt-free culinary experience.
The following Event Glossary Caterers Offer Green Options:
Mangé Catering
Highlights: Vegan, Organic, Halal, Kosher, Gluten free
Marie's Fleur de Lis Catering
Highlights: 3 Star DineGreen.com rating, sustainable cutlery and plating options
Ralph Brennan Catering & Events
Highlights: Gluten free options, seasonal seafood and vegetables
Two Girls One Shuck
Highlights: Oyster shell recycling program to create marshland protection from coastal erosion
Palate New Orleans
Highlights: Vegetarian hors d'oeuvres and displays, local ingredients
3. Live Green
Louisiana may be behind the curve in the green hotel sector, with no Green Seal-certified hotels as of yet. However, a few locations are changing the way they do business for a less wasteful future. Environmentally-conscious travelers and their families can stay and play at one of these Event Glossary properties and feel good about it:
Data from New Orleans Online.
4. Fashion is Forever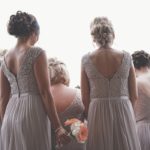 If you've seen the documentary, "The True Cost" you might be familiar with the behind-the-scenes of the garment industry. Fast fashion has not only resulted in intense human labor conditions, but in the U.S. alone, clothing disposal amounts to 65 billion pounds of waste per year. (Huff Post)
Bridesmaids dresses are one of those one-off items that get thrown away more often. It's recommended by the #30Wears campaign that each item of clothing or pair of shoes that you own be worn at least 30 times before donation or disposal. That's why our next tip is all about renting instead of buying. Try Rent the Runway Bridesmaids to rent chic, "slow" fashion pieces for as low as $30. Your bridesmaids will thank you for saving their bank, closet space, and preventing another one-wear fashion situation.
5. Thoughtful Decor
Who needs wasteful paper banners and streamers when you can select tasteful, sustainable decorations?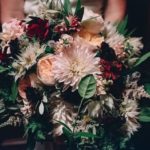 Fall is here and its got floral artist Kim Starr Wise inspired. Last year, Kim created this organic bridal bouquet for one of her conscious clients. You too can celebrate the harvest with organic bouquets, centerpieces, and hanging installations using Kim's fresh, seasonal flowers. Plus, how dreamy would this arrangement look in front of a white gown? Photo from Kim Starr Wise and Dark Roux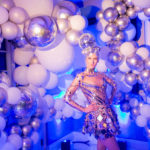 Over the top in the best way possible, Badass Balloon Co. chooses 100% biodegradable (on land and sea!) balloons to create unforgettable event displays. Photo from Z Event Co.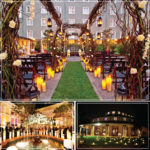 With these Luminous Events designs, it's easier than ever to reduce electricity usage at your big event. Cleverly placed candles and lanterns create a romantic ambiance that you just can't get with artificial lighting. Natural warmth is another added perk for those cooler New Orleans days (yes, they exist!)
We hope the Event Glossary can help you and your spouse choose the best venues and suppliers for your dream "green" New Orleans wedding or event. If you'd like to feature your company on the Event Glossary, fill out our online form here.