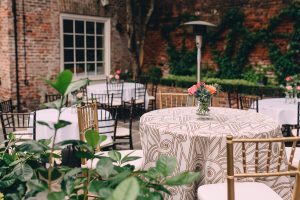 Throughout the majority of the year, New Orleans has the perfect weather and climate for an outdoor event. For those celebrating a birthday or anniversary, those planning corporate or social events, and those who are beginning the wedding planning adventure, there are plenty of outdoor venues across the city to fit your needs. As a city known for parties and revelry, you can imagine just how many reception and party venues there are, so we decided to list twelve of our favorite event venues that are perfect for hosting your next party!
1. Race and Religious
This historic outdoor venue has it all: classic New Orleans decor and architecture, lush greenery, exposed brick, and a reflecting pool that can easily be covered for guests. Race and Religious is comprised of three historic homes in the Lower Garden District with a beautiful courtyard filled with palm trees and multiple covered balconies. This venue is perfect for an outdoor celebration for anyone craving that New Orleans atmosphere.
2. Elms Mansion
Elms Mansion is a large historic event venue with plenty of indoor space and a large courtyard with a beautiful white gazebo centrally located. This Garden District gem is filled with imported furniture that is sure to be the topic of much conversation at your event. Located on St. Charles Avenue, Elms Mansion makes it easy for guests to streetcars for transportation for those who really want to take in the full New Orleans experience.
3. Audubon Tea Room
Located in Audubon Park, near Tulane and Loyola, the Jerome S. Glazer Audubon Tea Room is a breathtaking indoor venue with even more impressive private gardens and live oaks surrounding their outdoor venue space. Host a dinner surrounded by gorgeous flowers and oak tree-shade or host an outdoor reception and continue dancing the night away by also using the indoor space.
4. Pavilion of the Two Sisters
Similar to the Audubon Tea Room, the Pavilion of the Two Sisters is located in a park with both outdoor and indoor space. This large event venue in City Park has a beautiful indoor reception space with floor-to-ceiling windows and arched doors that look out onto the terraces and gardens. Host your next event tucked under oak trees and next to a beautiful fountain and an amazing view of the Botanical Gardens.
5. Broussard's
Nestled in the French Quarter, Broussard's has been a fixture in the New Orleans culinary and event scene for nearly a century. This building dates back to 1834 and maintains all of the charm that comes with classic French Quarter venues. There is a lovely courtyard in the back for outdoor celebrations, ceremonies, and receptions. If you're looking for additional space, you can also combine your event at Broussard's with the Hermann-Grima house that is on the other side of the courtyard!
6. Rooftop on Basin
This rooftop venue in the French Quarter offers some of the most amazing views of the heart of New Orleans. Attached to the rooftop terrace is a room lined with windows that give guests the full view of the city and allows the Rooftop on Basin to be the perfect venue for events in the middle of July or January! This reception venue can hold up to 200 guests, so be sure to add this to your list of New Orleans event spaces.
7. Napoleon House
The Napoleon House is one of the oldest establishments in New Orleans and is famous for their Pimm's Cup. But that's not all this venue is famous for. In addition to hiding Napoleon Bonaparte briefly in 1821, this historic venue has several rooms that can be rented out singularly or together, in addition to a beautiful courtyard that is partially covered (great in case of rain!). This party venue also has a quaint cupola that serves as a wonderful backdrop for pictures, and even engagements!
8. Terrell House
The Terrell House is a getaway tucked away in the Lower Garden District area of New Orleans. This venue is an 1857 mansion that has since been converted into a charming and sophisticated New Orleans bed and breakfast. This is the perfect venue for more intimate parties as the Terrell House can host up to 120 guests. The courtyard is the perfect place to host a dinner or reception, and the indoor space of the venue is the perfect rain plan location. Did we mention the bed and breakfast's facade has gorgeous ironwork that makes for amazing photos?
9. Café Amelie
Café Amelie is located on Royal Street in the Princess of Monaco Courtyard and Carriage House. This beautiful French Quarter restaurant is known for the beauty of its courtyard and is the perfect location for a large brunch, shower, or any event that is looking for a charming vibe.
10. Board of Trade
Located in the center of the Central Business District (CBD), the New Orleans Board of Trade was founded in 1880 and served as a trading floor for nearly a century. While this large New Orleans event venue is located inside the St. James Hotel, the Board of Trade itself contains a large outdoor courtyard that can hold up to 300 guests, or 500 indoors, for your next party.
11. Maison Dupuy Hotel
This quaint French Quarter hotel boasts a courtyard that is filled with brick exteriors, making it a wonderful backdrop for any outdoor event. The courtyard space can hold 200 guests and is in the perfect location for a traditional downtown second line parade through New Orleans.
12. Bourbon Orleans Hotel
This historic hotel has a grand ballroom serving event hosts and party goers since the 1800s. While the hotel reception venue has a small courtyard for intimate gatherings and dinners for up to forty people, you can also host an event in the main courtyard for larger parties. This venue is conveniently located near the St. Louis Cathedral, making it a spectacular wedding venue to continue a celebration after the ceremony.